Birth Options: Hospital, Birth Center or Home Birth? Midwife or Obstetrician: Which is Right for you?
---
The Providers:
San Gabriel Valley/ San Fernando Valley/Antelope Valley/ Greater Los Angeles/Santa Monica and Malibu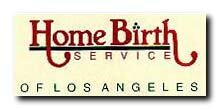 Leslie Stewart, CNM
Certified Nurse-Midwife
Felicia Forrest, CNM
Certified Nurse-Midwife
Homebirth Service of Los Angeles
3959 Laurel Canyon Blvd., Ste. A
Studio City, CA 91604
818-760-6541
E-mail:

Individualized prenatal care and home birth, including water birth, well-woman gynecology and family planning by ACNM Board Certified Nurse Midwives.
---
Los Angeles
The Hollywood Birth Center
Connie Rock, L.M.
California Licensed Midwife
Birth Center located at 1445 Gardner Ave., near Sunset and Fairfax in Hollywood
323-436-7425 (Birth Center)
310-915-3058 (Connie)
URL: www.hollywoodbirthcenterLA.com
E-mail:

Well-woman gynecology including annual physical exams, advisement on contraceptive methods, treatment of vaginal infections, breast exams, diaphragm and cervical cap fittings and Depo-Provera injections. We are committed to empowering women through education and support; we encourage informed decision-making. Most insurance accepted. Obstetrician consultation is provided when necessary. Our clinic and birth center is located in a 1918 Craftsman-style house in Hollywood (near Sunset and Fairfax). Run by Licensed Midwife Connie Rock, other services include pre-conception counseling, prenatal and postpartum care, hospital labor support, natural childbirth, water birth, birth center and home deliveries, childbirth education and parenting classes for our clients, breastfeeding support. We specialize in waterbirth! Give birth in water in our beautiful birth center water tub or your own home; our portable birthing tub is included for no additional fee. For more information, see our listings under Direct-Entry Midwives and Birth Centers.
---
Orange County/Riverside County/San Bernardino/ Parts of Los Angeles County

Geeta Swamidass, M.B., B.S., L.M.
California Licensed Midwife
Licensed Physician, India
Birthing Care Center
2010 N. Tustin Ave. #D
Orange, CA 92865
Office: 714-637-9664
Cell: 714-726-4753
Fax: 714-633-4064
E-mail:


Geeta cares for the women and babies she serves as evidenced by the free clinics she has run for 18 years in Southern California. Available to patients are free consultations and pregnancy testing, low cost ultrasound and lab work and well-woman checks. Water births are no extra cost. Ob-Gyn hospital backup available. Having a medical background, Geeta is very well-qualified in taking care of emergencies. Her assistant is a licensed EMT and together they make a great team. Referrals for childbirth classes and nutritional consultation. References available upon request.

---
Los Angeles/ San Gabriel Valley/ San Fernando Valley/ Santa Monica/Topanga

Shelly Girard, L.M., C.P.M., M.P.H.
California Licensed Midwife, Certified Professional Midwife, Master's in Public Health (Health Education)
Seannie Gibson, L.M.
Licensed Midwife
Childbirth At Home, A Labor of Love
496 Rainbow Ave.
Los Angeles, CA 90065
323-221-7822
Email:
URL: /shelly/
Also see: Spotlight on the Practitioner: Shelly Girard
Shelly Girard, LM, CPM, MPH- has been offering wholistic prenatal care, well-woman gynecology and childbirth at home and has attended over 3000 births since 1972. Insurance billing available. She is licensed by the State of California and is a Certified Professional Midwife accredidted by the North American Registry of Midwives (NARM), and earned her Master's Degree in Public Health Education and Promotion from UCLA in June, 2000. With a focus on wholistic health care, her areas of expertise include nutrition, herbology and exercise physiology. She is a massage therapist certified by the Institute of Psycho-Structural Balancing. Shelly has practiced yoga for over 30 years and holds a black belt in Kenpo Karate from the International Kenpo Karate Association (IKKA). She has two grown sons, Chesed and Shawn, who were born at home.

Seannie Gibson, LM- trained as an apprentice with Shelly Girard, and was certified as a Birth Assistant through The Association of Labor Assistants and Childbirth Educators and provided hospital labor support before obtaining her midwifery license. She was licensed as a midwife in 2002 by the California Medical Board. She is the mother of three home-born children.
---
This directory lists selected women's healthcare providers who support the ideals of natural childbirth and wholistic medicine. If you are a nurse-practitioner, midwife or wholistic women's health-care provider and wish to be listed here, please email for information on how to list your services on this page.
---