---
Homebirth with Certified Nurse Midwives (CNMs)
---
For Further Browsing:
---
The Providers:
San Gabriel Valley/ San Fernando Valley/Antelope Valley/ Greater Los Angeles/Santa Monica and Malibu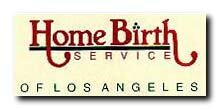 Leslie Stewart, CNM
Certified Nurse-Midwife
Elizabeth Dubbs, CNM
Certified Nurse-Midwife
Homebirth Service of Los Angeles
3959 Laurel Canyon Blvd., Ste. A
Studio City, CA 91604
818-760-6541
E-mail:

Individualized prenatal care and home birth, including water birth, well-woman gynecology and family planning by ACNM Board Certified Nurse Midwives.
---
Orange County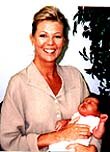 Lorri Walker, C.N.P., C.N.M.
Nurse-Practitioner, Certified Nurse-Midwife
South Coast Midwifery and Women's Health Care
4650 Barranca Parkway
Irvine, CA 92604
Phone: 949-654-2727
Fax: 949-654-2735
E-mail:

South Coast Midwifery and Women's Health Care is South Orange County's only free-standing birth center, offering full scope midwifery and well-woman gynecological care. Birthing options include water birth at home or in the birth center, or hospital birth. We offer outstanding prenatal education and support with referrals to prepared childbirth educators, doulas, massage therapists, chiropractors, and many other complementary professionals. See our website for up to date information and extensive descriptions of services, insurance options, and staff. Also, now offering Doula Apprenticeships for the Birth Center, Hospital and Home Birth Practice.
---
Orange County, Southern and Eastern L.A. County, Western San Bernardino County.
---
Hermosa Beach and Greater Los Angeles
Mary Lou O'Brien, C.N.M.
Certified Nurse Midwife
Beach Cities Birth Service
Hermosa Beach, CA
Office: 310.376-5647
Web:www.beachcitiesbirthservice.com

Mary Lou has been practicing midwifery for over 20 years in a variety of settings. Services include hospital birth,waterbirth and homebirth. Offering personalized prenatal care with home visits, well-woman annual exams, and supportive obstetrician back-up when needed. She has three children, the oldest born at a freestanding birth center, and the other two (a daughter and a son) who were born at home.
---
This directory lists selected birth support providers who support the ideals of natural childbirth. If you wish to be listed here, please email .
---