---
The Direct-Entry Route:
"The Spiritual Calling of Midwife Shelly Girard, L.M., C.P.M., M.P.H. "

by Cordelia Hanna, BA, CCE, CBA
---
"We aren't going to change the birth experience for the majority of women in this culture until we can start to view it from a more wholistic perspective."

- Shelly Girard, midwife
Shelly has been a midwife for thirty years. It wasn't an occupation that she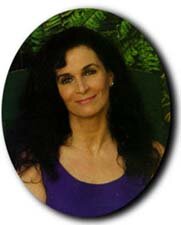 pursued; it just evolved over time. "I really wanted to be Mother Theresa", Shelly says, "But the job was taken". Of course, Shelly has all the qualities necessary to be a great midwife: vigilance, integrity, excellent judgement, a highly-evolved intuition, a scientific mind, the ability to listen and communicate well, excellent medical skills, and most importantly, chutzpah.

Maybe it is "in her blood": After all, her father was a doctor--an orthodontist, facial surgeon and nutritionist-- who attended medical school at Harvard, Columbia and Johns Hopkins University.

Shelly was one of five daughters who grew up in New Hampshire and Massachusetts. In 1971, she graduated from Tufts University in Boston where she was a pre-med student, majoring in Biology and Psychology. She earned a Bachelor of Science in Biology. She married Jay Patt in 1971, and became pregnant with their first child soon after when she was 21 years old.

Shelly decided that she was not going to have her baby in a hospital, influenced by her older sister who had natural childbirth in the sixties and her "grandmother who had eight homebirths with no complications," and her mother, "who had six hospital births, and developed complications with every one of them".

So, Shelly set out to find someone who had had a homebirth so she could find out what supplies were needed. Eventually, she got the name of a woman who had had a homebirth and called her up. She referred Shelly to Boston Association for Childbirth Education (BACE) and she took classes with them; they were very enthusiastic since she was their first home-birther.

The homebirth mother let Shelly know what supplies were needed and gave her a Mexican midwifery manual--in Spanish. The only other book available on natural childbirth was Thank You, Dr. Lamaze. Books on the subject of homebirth or midwifery were then non-existent. (Spiritual Midwifery by and The Farm Midwives hadn't been written yet, as the hippies who were to become the community of The Farm were caravaning in their painted school buses and birthing on-the-road concurrently). Midwives were non-existent in New England at this time. There were a few black 'granny midwives' working in the South, but they were not accessible to most people planning home births.

So, Shelly set out to find a doctor who would help her give birth at home and found three doctors who would help her: a M.D. (who specialized in nutrition) did her prenatal care, a psychiatrist helped her at the birth , and a third doctor agreed to be her hospital back up. Her birth was five hours long and the baby boy, who she named Chesed, was healthy. "This experience changed my life" Shelly says.

Shelly became involved with The Cambridge Women's Health Collective (authors of the landmark feminist health care book, Our Bodies, Ourselves). Then, in January of 1973, Shelly responded to an ad placed by Tonya Brooks (who would become a midwife, also) to formulate an organization that would provide information and referrals to persons wanting home births. This organization came to be called Association for Childbirth at Home, Inc. (Shelly left ACHI in 1975 to work with Homebirth, Inc.).

Friends were wanting to have their babies at home, and knowing that Shelly had hers at home, they asked her to come as a Labor Companion. Soon word got around that Shelly would help at births, and before long, she was being asked to catch babies. By the time she had been to ten births, she was considered by her community to be a midwife! (My, how times have changed!)

A macrobiotic doctor who did homebirth deliveries asked Shelly and several other women to be his assistants; Shelly went to births with him from 1975-1977. Through The Cambridge Women's Health Collective, Shelly learned from doctors, nurses and other women many skills: suturing, blood drawing, urinalysis, pap smears, vaginal exams.

She also studied with Irridologist Bernard Jensen and learned about herbology from John Christopher, "the father of herbal medicine." She took seminars with childbirth educator/anthropologist Shiela Kitzinger and gentle birth advocate, the French obstetrician Fredrick LeBoyer, M.D., author of Birth Reborn.

Shelly also worked at The New England College of Acupuncture from 1976-1977 where her husband was a student. She and other midwives were backed up by obstetrician Dr. Leo Sorger, M.D. (Dr. Sorger was married to prenatal exercise instructor and author Elizabeth Noble, and can be seen in the video of their son's birth: "Channel for New Life" and on the video "Hello Baby", where he is the kind doctor helping the VBAC mom).

In 1977, Shelly, her husband Jay and son Chesed, now five, moved to Los Angeles County so that Jay could attend chiropractic school. Their second child was born at home in Altadena that same year, and this time Shelly, with help of her husband, delivered their son Shawn.

She breastfed both of her children for five years. Often, she would bring them to births with a babysitter. Shelly learned about chiropractic while her husband was in school and she also took college courses in anatomy and physiology, chemistry and pathology. She is certified in neonatal resuscitation and IV Infusion and is also a Certified Massage Therapist from The Institute of Psycho-Structural Balancing.

She has been a member of Self Realization Fellowship since 1971 and has studied the teachings of Parmahansa Yogananda and practiced daily mediation and a vegetarian diet for thirty years. Shelly's midwifery practice has gotten busier and busier over the years (she has never had a partner) as word caught on of how great a midwife she is. She divorced Jay Patt in 1980, and in 1987, married Paul Girard, an artist and Karate Master. They live in a beautiful home which Shelly designed and built in the Mt. Washington dictrict of L.A., where she sees clients.

Shelly is also into exercise and fitness; she holds a black belt in Kenpo Karate. A wellspring of vitality and energy, when she is not delivering babies, she is giving massages, doing her Karate workout or teaching Sunday school at her church.

Shelly uses many modalities in her practice, considering pregnancy and childbirth to be a wholistic process: emotional counseling, massage, dietary analysis, vitamins and herbs, networking with practitioners of acupuncture, chiropractic and homeopathy,, hypnotherapy and Kundalini yoga(to name only a few), she stresses the importance of body/mind integration in preparation for birth.

Shelly says she did not pursue becoming a Certified Nurse-Midwife "because it is too medically oriented...midwifery is a separate profession than obstetrics and optimum health for women and babies is obtained by avoiding pharmaceuticals". Also, she says, "the medical profession does not acknowledge the mind/body connection and they do not treat the whole being: the physical, psychological, emotional and spiritual". In 1996, Shelly became one of the first direct-entry midwives in the state of California to obtain a license to practice her vocation. She is also nationally accredidted by The North American Registry of Midwives as a Certified Professional Midwife. When asked why she chose to become licensed, she says she hoped it would "free midwives from legal prosecution" (although she admits some reservation about it delivering this, referring to CNMs with homebirth practices who have had problems despite their legal status). Her concerns about licensing are in "the over-regulation of midwifery practices, and the lack of freedom to evaluate each woman's case independently", but she hopes that licensing will make homebirth and midwifery more accessible to more women.

Her goals for the future are: retirement from delivering babies, as she is moving on to training aspiring midwives. She has apprenticed several aspiring midwives in her practice. Shelly received her Master's in Public Health (MPH) from UCLA in June, 2000, with an emphasis in Health Education and Promotion, specializing in maternal/child health issues.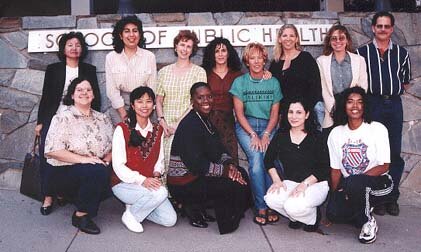 Year 2000 U.C.L.A M.PH. for Health Professionals Program Graduates
Shelly, Back Row, Center
Shelly's newest project, in collaboration with Cordelia Hanna, BA, CCE, CBA, is the formulation of a midwifery training program in the Los Angeles area, based on the Seattle Midwifery School model. The Wholistic Midwifery School of Southern California, is currently in the formulative stages. In this school, students clinical experience will be gained in birth center or homebirth practices as well as clinics and hospitals. Students will have solid academic foundation in the life-sciences pertaining to midwifery and in addition, the WMSSC midwifery students will be exposed to alternative and complimentary modalities which support pregnancy and childbirth: acupuressure, chiropractic, herbology, homeopathy, hypnosis, nutrition, yoga, etc. She hopes to begin accepting students in the year 2005. For more information, go to: The Wholistic Midwifery School Homepage

"We aren't going to change the birth experience for the majority of women in this culture until we can start to view it from a more wholistic perspective," Shelly says. Her path is "that of the yogi", her mission "to honor and revere, to the best of [her] ability, the physical, mental and spiritual power of the woman, and to serve God by doing so."
---
Shelly Girard, California Licensed Midwife, can be reached at Childbirth at Home, A Labor of Love at 323-221-7822 or by e-mail at
---
Questions? Comments? E-mail: