---
Hospital Birth with Certified Nurse Midwives (CNMs)
---
For Further Browsing:
---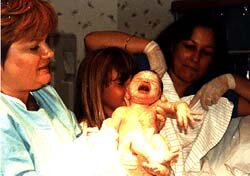 ---
The Providers:
Orange County
Lorri Walker, C.N.P., C.N.M.
Nurse-Practitioner, Certified Nurse-Midwife
Certified Nurse-Midwife
South Coast Midwifery and Women's Health Care
4650 Barranca Parkway
Irvine, CA 92604
Phone: 949-654-2727
Fax: 949-654-2735
E-mail:

South Coast Midwifery and Women's Health Care is South Orange County's only free-standing birth center, offering full scope midwifery and well-woman gynecological care. Birthing options include water birth at home or in the birth center, or hospital birth. We offer outstanding prenatal education and support with referrals to prepared childbirth educators, doulas, massage therapists, chiropractors, and many other complementary professionals. Now offering doula apprenticeships at the birth center.
---
Downtown Los Angeles
California Hospital Medical Center
1401 S. Grand St.
Los Angeles, CA 90015
213-742-5744 or 742-6474

Accepts Medi-Cal. Low C-section rate. Prenatal care and delivery by team of Certified Nurse-Midwives. You can also get prenatal care from a community clinic and give birth there, but you must pre-register at admissions office first.
---
Los Angeles County
Kaiser Permanente Hospitals
1-800-464-4000
Only available for those with Kaiser HMO insurance. Low-C-section rate. Kaiser Woodland Hills employs Nurse-Midwives who are on-call 24-hours a day. Other Kaiser hospitals (Sunset, Cadillac, Baldwin Hills) only have midwives on-call limited hours. Call those locations for further information.
---
Westwood and Westside Los Angeles
UCLA-Nurse-Midwifery Associates, A Midwifery Obstetric Partnership
University of California Los Angeles Medical Center
Plaza 200 Building, Suite 430
Los Angeles, CA 90095
Information: 310-794-4434
Appointments: 310-794-7274

Susan Huser, CNM, MSN, FACNM A. Ann Trudell, CNM ,MSN
Felicia Forrest, CNM, MSN M. Pauline Glatleider, CNM, MSN
Carolee Dunivan, CNM,MSN Kia Winlock, CNM, MSN

The midwives in this group provide care based on the midwifery model; employing minimal intervention, the judicious use of technology and shared decision-making. Our physician partners are proud of their association with us and support our philosophy of care, and are committed to being immediately available for guidance and assistance should the need arise, including support for VBAC (vaginal birth after cesarean section) labors. The superior resources of UCLA Medical Center are available to all our women and families, from sophisticated fetal testing to the most compassionate and skilled nursing staff. We offer free consultation visits as well as preconception care. We accept most forms of insurance and Medi-Cal.
Prenatal care for those with Medi-Cal is given by nurse-midwives at community Medi-Cal clinics, including Westside Family Health Center, located at 1705 Ocean Park Blvd. in Santa Monica, 310-450-2191, ext. 228, and Pacifica Women's Health Center, 11101 Venice Blvd. in Culver City, 310-840-5757.
---
Greater Los Angeles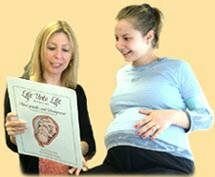 California Obstetrics and Gynecology Services
Certified Nurse Midwives, Board Certifed Obstetricians
323 N. Prairie Ave. #210
Inglewood, CA 90301
Office: 310.673.2647
Fax: 310.673.2657
Web:www.cogsgroup.com

Our practice provides personalized midwifery care in a hospital setting for women desiring VBAC, waterbirth, or simply, "birth with dignity". Because we are a hospital-based practice with MDs supportive of miwifery care, we offer sensitive care to women with risk factors such as diabetes, twins, etc. Our philosophy and experience shows that the vast majority of women, including those with "risk factors" can have a normal pregnancy and birth.
Our spacious, "homey" office allows for comfortable prenatal visits and comprehensive women's health services. All of the newest birth control methods are avialable including IUDs and the patch. Care for women in all stages of life provided by female providers! Most insurances accepted. Medi-Cal and cash pricing also available.
---
Hermosa Beach and Greater Los Angeles
Mary Lou O'Brien, C.N.M.
Certified Nurse Midwife
Beach Cities Birth Service
Hermosa Beach, CA
Office: 310.376-5647
Web:www.beachcitiesbirthservice.com

Mary Lou has been practicing midwifery for over 20 years in a variety of settings. Services include homebirth,waterbirth and hospital birth. Offering personalized prenatal care with home visits, well-woman annual exams, and supportive obstetrician back-up when needed. She has three children, the oldest born at a freestanding birth center, and the other two (a daughter and a son) who were born at home.
---
This directory lists selected birth support providers who support the ideals of natural childbirth. If you are midwife and wish to be listed here, please email
---
Questions? Comments? E-mail: