---
Hospital Birth with Obstetricians
---
For Further Browsing:
---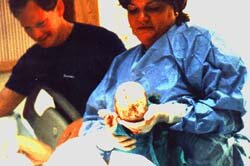 ---
The Providers:
The following obstetrican-gynecologists are on the "A List" of many childbirth educators, doulas, midwives, and childbirth support organizations in the Los Angeles area. They have been chosen for their commitment to upholding the informed choice model of care, their receptivity to women's needs and desires, and their family centered approach to caregiving. For a special delivery, call one of these docs!
Los Angeles
Dr. Margaret Bates, M.D.
and Dr. Mark Dwight, M.D.
Bates & Dwight Medical Group
637 S. Lucas Ave. #200
Los Angeles, CA 90017
213-977-4190
Good Samaritan Hospital, downtown Los Angeles. Offer water birthing tub in hospital setting. Good choice for parents wanting minimal drugs and medical intervention or Vaginal Birth After Cesearean. Dr. Bates is herself a VBAC mother.
---
Beverly Hills/West Los Angeles
Dr. Paul Crane, M.D.
and Debbie Frank, CNM
415 Crescent Dr.
Beverly Hills, CA 90210
310-659-5810

A good choice for women wanting Vaginal Birth After Cesearean or natural childbirth within the hospital environment. Strongly supports women's desire to give birth their own way and informed decision-making. Dr. Crane delivers babies at Cedars Sinai Medical Center in West Los Angeles.
---
Glendale

Glendale Adventist Hospital. Good choice for parents wanting childbirth with minimal medication and intervention in a hospital setting with doctor supporting informed choice.
---
This directory lists selected obstetricians who support the ideals of natural childbirth. If you know of a great doc who should be listed here, please email .
---