---
Childbirth Educators
---
For Further Browsing:
---
The Childbirth Educators:
---
Los Angeles County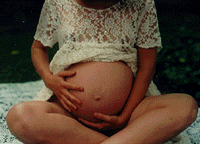 Cordelia S. Hanna, B.A., C.C.E., C.B.A.
Certified Childbirth Educator, Certified Birth Assistant, Assistant Midwife
Full Moon Childbirth Support Services
280 W. Sierra Madre Blvd. #177
Sierra Madre, CA 91024
626-388-2191
626-358-9478 (fax)
Email:
URL: www.support4birth.com
Since 1990, Cordelia has taught "Informed Birth and Parenting" Childbirth Preparation Classes. Private childbirth preparation instruction in the privacy and intimacy of your own home (Los Angeles County and Northern Orange County). Prepare for natural childbirth in hospital, home or birth center while cultivating an acceptance of unexpected outcomes. Classes provide labor-coping strategies (breathing, relaxation, etc.), explore spiritual and emotional aspects of pregnancy and childbirth and help the woman develop trust in birth and confidence in her abilities. Instructor is accredited through the Association of Labor Assistants and Childbirth Educators, ALACE. Also available: Birth Options Consultations in e-mail, by phone appointment, or in person, breastfeeding instruction and referrals to doulas, doctors, and midwives.. Also training is available for aspiring doulas and breastfeeding counselors.
---
Ojai/Ventura/Santa Barbara/Topanga

Laura Whitney, M.A., C.C.E., C.B.A.
Certified Childbirth Educator (retired), Certified Birth Assistant (retired), Documentary Filmmaker
Ojai, CA
805-640-6961
E-mail:
URL: sagemtnfilms.com

Laura is an anthropological documentary filmmaker and photographer with a Master's Degree in Visual Anthropology from U.S.C., and formerly, she worked as a midwife's assistant, doula and childbirth educator. Laura's newest film, "Blessing the Way: A Ritual Transformation and Healing Through Pregnancy of Birth" explores the role of ritual ceremony in preparation for birth as a means to nurture the expectant woman, and facilitate her personal growth and healing during the childbearing cycle. It can be ordered on-line by going to her website.

---
This directory lists selected birth support providers who support the ideals of natural childbirth. If you wish to be listed here, please email:.
---