---
See Also: Becoming a Midwife| The Wholistic Midwifery School of Southern California| Southern California Birth Support Providers|
---
Contents
Birth Currents contains the latest childbirth, pregnancy, nutrition, postpartum, parenting and midwifery-related events in California.
Volunteer Doulas Needed | Workshops and Trainings|
N.O.W. Resolution Supporting Choices in Childbirth | APHA Resolution Supports the CPM |Legislation Effecting Midwives |
---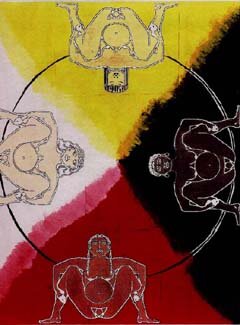 ---
ONGOING ACTIVITIES:
---
VOLUNTEER DOULAS NEEDED-SANTA MONICA, CA AREA:
Westside Women's Health Center in Santa Monica, California, a community clinic offering comprehensive ob/gyn and family-planning services by UCLA's Certified Nurse-Midwives, has a doula program for their Medi-Cal patients. Doulas will be matched with pregnant patients who deliver at UCLA Medical Center with Nurse-Midwives. If you are a Certified Doula or Birth Assistant and would like to volunteer, contact Anto Maria Honon, Perinatal Coordinator, at 310-450-2191 ext. 229.
---
VOLUNTEER DOULAS NEEDED-SAN DIEGO AREA:
"Hearts and Hands Doula Program" at UCSD Medical Center Hillcrest is looking for certified and/or experienced labor support providers, doulas or birth assistants. Also, those with personal experience helping families during labor may apply. This is a great opportunity to make a contribution to women and to gain valuable new experiences. Contact: Karen Lindquist, Director of Volunteer Services, UCSD Medical Center at 619-543-6370. "Heart and Hands Doula Program" is a cooperative effort between UCSD Medical Center and Athena Women's Health and The BirthPlace, a low-risk, in-hospital birthing center with care by Certified Nurse Midwives.
---
VOLUNTEER DOULAS NEEDED-PASADENA/ALTADENA,CA AREA:
The Pasadena Public Health Department Black Infant Health Program is proud to announce their new project, The Caring Companions Doula Referral Service. Doulas seeking births needed for certification who would like to make a difference in the lives of African-American women and babies are invited to volunteer to do labor support. Most clients deliver at Huntington Memorial Hospital in Pasadena. African-American Doulas are encouraged to apply; but women of all backgrounds are welcome. Application and TB testing are required before being put on a referral list that will be given to clients seeking Doulas. The Black Infant Health Program is funded by The California Department of Health Services Maternal and Child Health Branch to address the issue of premature birth, low birth weight and infant mortality in the African-American community. The program utilizes a framework of social support and empowerment to reach these objectives. To obtain an application and for further information, contact The Black Infant Health Program at 626-744-6093 or e-mail
---
MEADOWBORN MIDWIFERY STUDY GROUP
ABOUT MEADOWBORN MIDWIFERY WORKSHOPS:
Meadowborn Midwifery Study Group meets monthly for lectures, seminars, workshops and discussions about various aspects of midwifery practice, classes are geared at aspiring, student, entry-level and senior midwives. Classes are taught by working midwives and other health care professionals.
WORKSHOP LOCATIONS:
Sunrise Birth Center, 12 N. Ash St., in Ventura, California. (at Ash and Main) 805-648-2350.
The Ventura Birth Center, 3110 Loma Vista Road, Ventura, California.
DIRECTIONS TO SUNRISE BIRTH CENTER:

From the North: Take Hwy. 101 South to Ventura. Exit Main Street, turn right on Main to Ventura Ave., turn right on Ventura to Thompson, turn left on Thompson to Ash; turn left on Ash to Main. The center is on the SE corner of Ash and Main, 12 N. Ash.
From the South: Take 101 freeway to Ventura, exit California St., stay in right lane and turn right on Thompson, go 3 blocks to Ash, turn left on Ash to Main, The center is on the SE corner of Ash and Main., 12 N. Ash.
DIRECTIONS TO VENTURA BIRTH CENTER:
From the South: Take 101 North, exit Seaward, turn Right. Take Seaward to main Street. Turn Right on Main Street. Take Loma Vista past Community Memorial Hospital on left. The birth center is on the right (looks like a store front). Parking is in the back, take first driveway past the birth center to enter the lot.
From the North: Take 101 South, exit Seaward. Turn left on Seaward. Take Seaward to Main Street. Turn right on Main Street. Take Main to Loma Vista, make a Left. Pass Community Memorial Hospital on left. The birth center is on the right (looks like a store front). Parking is in the back, take first driveway past the birth center to enter the lot.
FEES AND REGISTRATION:
All sessions are $35.00 plus $4.00 for CEUs.
HOURS OF WORKSHOPS:

Workshops will begin at 9:00 a.m. and end at 2:00 p.m.
PRE-REGISTRATION:

These workshops are taught and facilitated by working midwives and may occasionally have to be canceled due to the midwife having to attend a birth. We can only notify you of a cancellation if you are pre-registered.
CONTINUING EDUCATION:

Continuing Education hours will be offered for each workshop. The fee for processing CEUs is $4 per workshop. No CEUs can be given to anyone arriving more than five minutes after class begins, anyone who leaves early, or anyone who is absent from the classroom for more than five minutes during the workshop. (note: if you are not currently licensed but want a record of attendance for future NARM requirements, this may also be an option for you.)
REFUND POLICY:

A full refund will be offered to those who have pre-registered IF we are given at least 24 hours notice of cancellation. If you are called to a birth at the last minute, and call to inform us that you will not be attending (805/648-2350), we will offer you full credit to apply to another workshop of your choice. If we do not hear from you, no refund or credit will be given.
REGISTRATION GUIDELINES:

Please send checks for $35 per workshop (plus $4.00 if you want CEUs) payable to:

Megan Roy
242 Carr Dr.
Ventura, CA 93001

Questions? Contact Megan at 805-641-3151 or Karni at 805-648-2350.

SPRING 2004 WORKSHOPS--COMING SOON!
---
WORKSHOPS AND TRAININGS:

Breastfeeding Peer Counselor Training Workshop-Pasadena, California,
Friday-Sunday, January 16-18, 2004, 9:30 a.m.- 4:30 p.m.

Sponsored by The Pasadena Public Health Department Black Infant Health Program, this 20-hour workshop created by La Leche League, will give women who desire to help other women breastfeed the skills and knowledge to offer assistance and address the barriers that confront breastfeeding mothers.

At the end of the training, participants will receive a Certificate of Completion and recognition as a Breastfeeding Peer Counselor.

Volunteer opportunities are available to work as a Breastfeeding Peer Counselor with The Black Infant Health Program Breastfeeding Counselor Connection in the Pasadena/Altadena area. African-American women are encouraged to attend.

Approved for 21.5 BRN CEUs.

Sliding Scale Fees: $175 (for doulas, nurses and other certified or licensed professionals), $150 (for CPHWs, CHOWs and others).

Registration Deadline: Jan. 12, 2004. Register Early - Space is Limited.

For more information and to register, contact: The Black Infant Health Program at 626-744-6093 or e-mail: [email protected]
---
Labor Assistant Training Workshop, Offered by The Association of Labor Assistants and Childbirth Educators- May 14, 15, 16, 2004 - Los Angeles Area, Friday, 1:00 p.m.- 9:00 p.m., Sat. and Sun., 9:00 a.m. - 6:00 p.m.
Start your rewarding career as a Doula/Labor Assistant! Labor Assistants provide continuous, uninterrupted care for the laboring woman and her partner, and help them participate fully in their experience by offering physical and emotional support and information about the birth process, available technology and alternatives, helping reduce their need for medical interventions, shortening the length of labor, reducing need for pain medication and decreasing chances of a cesearean, while improving satisfaction with the childbirth experience.
In this 3-day workshop, you will learn the skills to support women in labor and to become an advocate for childbearing women.
Fees: $425 (payment plans available)
Registration Deadline: May 1, 2004 - Register Early, limited to 20 participants!
For more information and to register: Contact workshop sponsor or call 310-452-2527.
Or contact the workshop leader, Cordelia Hanna at support4birth.com or call 626-358-2318.
---
THE NATIONAL ORGANZATION FOR WOMEN'S RESOLUTION SUPPORTS CHOICES IN CHILDBIRTH AND ENDORSES MIDWIFERY CARE
In July, 1999, the largest and most important women's organization in the country, The National Organization for Women (N.OW.), expands the definition of "Reproductive Freedom" to include Choices in Childbirth and Endorses Midwifery Care.
For the complete resolution go to: socalbirth.org/currents/currents.htm#national
---
THE AMERICAN PUBLIC HEALTH ASSOCIATION ENDORSES DIRECT-ENTRY MIDWIVES
On October 24, 2001, The Governing Council of the American Public Health Association (APHA), formerly adopted a resolution increasing access to out-of-hospital maternity care services through state-regulated and nationally-certified Direct-Entry Midwives.
For the complete resolution, go to: www.mana.org/apha.html
---
IMPORTANT ISSUES PERTAINING TO CALIFORNIA MIDWIFERY PRACTICE:
Your right to give birth with a midwife in a birth center or your home is under threat! Your help is needed!
There are many barriers to midwifery practice in the state of California at this time. The issues of 1) Licensed Midwives obtaining Physican Supervision as required by law, 2) homebirth and birth center midwives being able to procure malpractice insurance, and 3) the difficulty in obtaining licenses for new midwives since the Seattle Midwifery School California Midwifery Licensing Challenge Process has been discontinued, present complex political challenges for midwives, aspiring midwives and parents who use their services.
All midwives, midwifery students, apprentices and parents who use midwifery services are urged to get involved and participate in the strategy to remove these crucial barriers to midwifery practice. Be sure that your midwife will be there when you (or your friend, daughter or neighbor) need her services!
We need to raise ten thousand dollars for legislative actions, legal services and community education to preserve California midwifery.
California Citizens for Health Freedom together with California Association of Midwives and Citizens Advocating Licensed Midwifery (CALM) are working on legislative and practical solutions to these problems. Your partcipation and financial support is essential!
Community meetings for all persons who want to preserve a parents right to give birth with midwives are forming to address these important issues and strategies. Frank Cuny, from California Citizens for Health Freedom along with California Licensed Midwives will be facilitating the meetings. For more information, please contact Faith Gibson at or E-mail to be placed on the meeting notification list, or to sign up to work on community organizing/education and fundraising projects.

IF YOU CANNOT ATTEND A MEETING, PLEASE MAKE A FINANCIAL DONATION OF ANY AMOUNT TO:

www.calmidwifery.org

FOR MORE INFORMATION, OR TO GET INVOLVED, CONTACT THE FOLLOWING ORGANIZATIONS:
Joined together with other citizens who support alternative health modalities, we will form a effective community-based alliance to preserve our right to choose to give birth with midwives.  Please lend a hand to keep community-based midwifery and childbirth at home from becoming extinct! Be part of the action to right this historical wrong. Please join the The Health-Medical Freedom Movement and the be part plans for 2003.
---
If you would like your childbirth, parenting or midwifery-related event in Southern California listed here, please e-mail the details to .
---