---
Terence Unity Freitas
---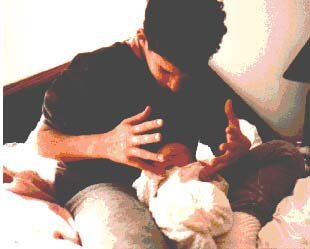 Terence and his baby sister Jennifer pictured here in 1988.
The son of Los Angeles area childbirth educator Julie Frietas was kidnapped and murdered in Columbia recently. Terence was an independent environmental scientist working with non-governmental organizations. He worked passionately for the survival of the indiginious U'wa people of Columbia, and died for a cause he believed in. The New York Times, on Friday March 6, 1999, reported that his body and that of two women, Ingrid Washinawatok and Lahe'ena'e Gay (who were Native American rights activitists), "were found Thursday [March 4, 1999]....in field on the Venezulean side of the Arauca River, which forms a boundary between Columbia and Venezuela. The three had gone to Columbia last month as part of an international campaign by environmental groups to prevent an oil company [Occidental Petroleum] from drilling on an indian tribe's ancesteral lands."

His mother Julie reports, "he was born at home twenty-four years ago in Inverness, California".

In lieu of flowers, Juile requests that donations be made in his name to the U'wa Defense Project, an organization she is sure that Terry would have wanted people to support: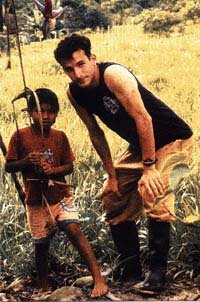 U'wa Defense Project
c/o The Rainforest Foundation
270 Lafayette St.
New York, NY 10012
212-431-9098

Our hearts and love go out to Julie Freitas, a dedicated childbirth professional who has commitedly and passionately worked to improve the quality of births for families for twenty years.

A memorial fund has been started by Leslie Stewart, CNM, of Homebirth Service of Los Angeles, so that those who wish to send expressions of sympathy may do so. Any monies collected are to be used as Julie and her family see fit for support of her family or as a memorial donation. Donations should be sent to Homebirth Service made out to Leslie Stewart, with a notation at the bottom "Terence Freitas Memorial". All donors will be individually acknowledged in a list of names to Julie. Thank you for your caring and support.

Homebirth Service of Los Angeles
Attn: Terence Freitas Memorial Fund
3959 Laurel Canyon Blvd., Suite A
Studio City, CA 91604
If you have any questions about this fund,
please call Homebirth Service at 818-760-6541.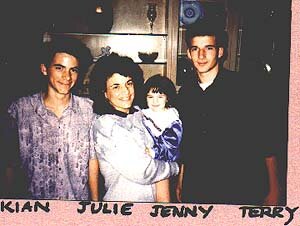 Julie with sons Kian and Terry and daughter Jenny, 1991
For more details on this story, see The Los Angeles Times, 3rd page, Saturday, March 6, 1999, and the international section of The New York Times, Saturday March 6, 1999. Audiocassettes of two shows hosted by Amy Goodman on Pacifica Radio's "Democracy Now" aired on Monday, March 8 and Tuesday, March 9, 1999. These recordings contain interviews with Terry and the other activists as well as eulogies by their colleagues and friends. They are available from Pacifica Radio Archives, 1-800-735-0230.
---
Questions? Comments?