Types of Homebirth Midwives and Fees
There are two types of midwives who deliver babies at home: Certified Nurse Midwives (CNMs) and Direct Entry Midwives (DEMs). In California, there are Licensed Midwives, who obtained their training by attending a direct-entry midwifery school, apprenticing with a senior midwife, academic study and clinical experience, and have undergone a licensing procedure.
Birth at home provides parents with intimacy, privacy, comfort and a family-centered experience.
Childbirth at home is a safe option for healthy women having normal pregnancies. It is for those who have a very strong desire for natural childbirth and who are willing to take high degree of responsibility for their health care and baby's birth. At home, the parents and midwife are in control of the birthing environment, and strict time perimeters for length of labor are not imposed, or routine medical interventions such as IVs done. "According to recently published studies, direct-entry midwife (non-nurse) attended homebirths were acomplished with safety comparible to that of conventional births. In fact, physician-attended hospital birth has never been shown to be safer than midwife-attended homebirth for women having uncomplicated preganancies". (Citizens for Midwifery, summarizing American Journal of Public Health 1992: 450-453; Birth 1994; 21:141-148), In fact, The World Health Organization (WHO) states that the preferred location for most births is outside the hospital, either at home or in a freestanding birth center.
Is Homebirth Safe?
Homebirth midwives provide complete prenatal care including monthly visits, laboratory tests, screening for infections. Unlike obstetricians, they provide nutritional counselling and support for psycho-social issues. In urban areas, emergency services are expeditiously obtainable. While there is the chance that a rare, but critical emergency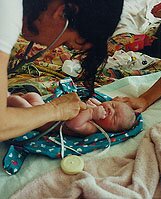 might occur during the birth where hospital services may not be able to be obtained quick enough, many complications can be diagnosed and corrected prenatally. Should they occur during the birth or postpartum, they can be remedied by an experienced midwife at the bedside. Homebirth midwives are trained to know when an emergency requires medical interface and can provide stabilizing measures until critical care can be obatined. Homebirth midwives have the training, equipment and medicine to handle complications. For example, the baby's heartbeat is monitored periodically -- which is the way birth attendants evaluate the baby's tolerance for labor contractions-- using a fetal heartrate "auscilation" (listening) device called a doppler or fetal stethoscope. In case of fetal distress in labor or breathing problems after birth, oxygen is brought to the home to give to mother or baby, as well as resuscitation equipment. If a woman has a laceration that needs repair, a midwife is trained in suturing. The homebirth midwife's birth kit includes homeopathic remedies and herbs, medicine to control bleeding, and IV fluid set up. However, many of these interventions, which are routinely used in most hospitals, are used if needed in a home setting.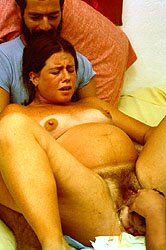 Homebirth midwives have a doctor they consult with or transfer care to in case a complication or emergency develops and transport to a hospital is required. If you don't have insurance, you must be prepared to pay the doctor cash or have a credit card available to pay him or her if his or her assistance is needed. Your midwife may want you to meet with the doctor during the pregnancy, or you may meet him only if a complication arises and a consultation or transfer of care is required.
Insurance and Medi-Cal for Midwives Services
The cost for a homebirth with a midwife in Southern California ranges from $2000 to $3500 for prenatal care, delivery and postpartum visits. Lab tests, ultrasounds birth supplies may be included in the midwife's fee, or may be extra. The midwife's assistant fee and/or childbirth preparation classes may or may not be included.
Some homebirth families who have health insurance may see a doctor for prenatal care concurrently with receiving prenatal care from the midwife in order to establish emergency back up or to have their insurance pay for lab tests and/or ultrasounds, if their insurance won't cover the midwife's fees. Many health insurance companies are now covering homebirths with licensed midwives. In California, state subsidized health insurance, Medi-Cal, may pay for Nurse-Midwifery services through a clinic or hospital. Medi-Cal does not cover Licensed Midwives at this time, although services may be covered in the future. Medi-Cal will not pay for a home delivery, but will pay for pre-natal care and delivery through a clinic, hospital or in some cases a birth center. Persons on Medi-Cal who want a homebirth may obtain prenatal care through a clinic and transfer to the midwife in the last trimester, paying her a reduced fee for a limited number of prenatal and postpartum visits and attendance at the birth.
Renting Tubs for Home Waterbirth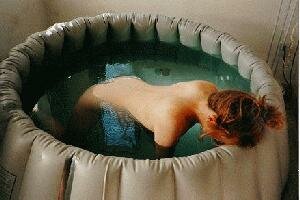 Birthing tubs can be purchased or rented for a birth in water within the privacy and comfort of your own home. To rent a tub, contact Global Maternal/ Child Health Association or go to Karil Daniel's WaterBirth Website Many freestanding birth centers offer birthing tubs, also.
To find a homebirth midwife in your community, contact:
Informed Homebirth
P.O. Box 1733
Fair Oaks, CA 95628
916-961-6923

Request the name of a midwife in your area by E-mailing: Midwives Alliance of North America
To find a midwife in California, go to: California Association of Midwives Website.
To find out more about midwifery nationally, go to: Citizens for Midwifery website.
---
Questions? Comments? Email: info@socalbirth.org